(Last Updated On: June 9, 2022)
Facial hair is a natural occurrence for many people. Whether you are a female or male, you can try home remedies to remove facial hair. Some of these methods include Lemon juice, Spearmint tea, Oatmeal, banana, and apple cider vinegar. For severe cases, you should seek medical attention. These are just a few of the most popular home remedies for facial hair.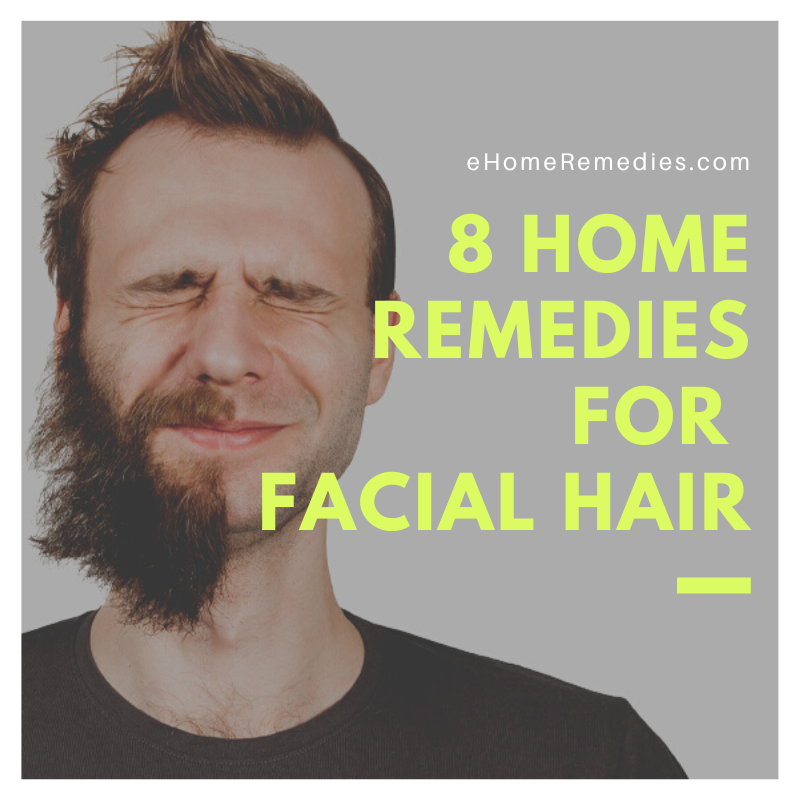 1. Lemon juice
Lemon juice is known for its bleaching effects. Hence, many people use it to get rid of unwanted facial hair. The citrus fruit can remove unwanted facial hair on your face using a sugar and lemon juice mixture. You can apply this mixture to your face and let it dry for 15 minutes. Rinse it off after a few hours with water. Continue to use this home remedy three times a week to achieve the desired results.
You can apply this paste to your face to get rid of facial hair permanently. You can mix equal parts of lemon juice and honey and heat it for a couple of minutes in the microwave. Apply the mixture to the affected area and gently pull the strip in the opposite direction. Repeat this twice a week to see desired results. However, you may experience irritation and itching after using it too often. Lemon juice and honey are great home remedies for removing facial hair.
2. Oatmeal
Oatmeal has many benefits and it is one of the best natural exfoliants available. Its antioxidants make it an excellent home remedy for treating facial hair. Oatmeal is also known to be a good choice for treating acne. Apply a paste made of oatmeal, banana, and lemon juice to your face. After applying this paste, massage it gently for fifteen minutes. Once it dries, rinse it off with cool water.
A mixture of orange peel powder and oatmeal can also be applied to your facial hair to remove it. The orange peel acts as a natural bleach and oatmeal is an excellent exfoliator. Oatmeal also protects skin from harmful UV rays and makes it look smoother and less coarse. While oatmeal can be irritating to some people, it is effective in removing unwanted hairs from your face. The oatmeal paste is also a great remedy for removing unwanted facial hair.
Another home remedy for facial hair that contains oatmeal is an oatmeal face mask. This scrub is an excellent exfoliant because it contains the avenanthramide class of antioxidants. It will also soothe your face and help your skin retain moisture. Apply the scrub on your face once or twice a week for best results. You can repeat the process as needed. When the mask has dried, rinse your face off with warm water.
3. Oatmeal and banana
Banana and oatmeal are two common ingredients you can mix to make a face scrub. The two ingredients have multiple health benefits, including being beneficial to dry, acne-prone skin. When mixed together, they make a fine scrub that gently removes facial hair while smoothing the skin. Apply the mixture to your face and massage for 15 minutes, then rinse it off with cool water. Banana and oatmeal are great ingredients for facial hair removal, and both can help prevent future hair growth.
A simple oatmeal and banana face pack removes unwanted facial hair. It also nourishes the skin and removes dead skin cells. Just remember not to keep it on for longer than twenty minutes, or you might risk drying out your skin. Apply the mask once or twice a week to achieve the best results. After each application, rinse with cold water and pat dry.
4. Spearmint tea
Spearmint tea is a popular herbal remedy used by many people to reduce the growth of unwanted facial hair. This tea has been found to reduce free testosterone in the body, which means fewer hairs will grow back in the future. Research has shown that spearmint tea can help treat hirsutism, which is a condition that affects approximately five percent of women. It has been found to reduce free testosterone levels and increase estradiol in the body, but more research is needed to prove its effectiveness in this regard. Before starting this tea home treatment, however, it's important to consult with a doctor to make sure it's safe for you.
One of the many benefits of spearmint tea is its cooling effects. Drinking a cup of spearmint tea can soothe gunky sinuses, sore throats, and other conditions associated with hirsutism. It can also reduce inflammation, which may be responsible for excess facial hair growth. So, try this tea to improve your overall health. You'll be glad you did!
5. Gelatin
If you're in search of some effective home remedies for facial hair, consider using lemon juice and gelatin. These ingredients have bleaching properties that can effectively remove unwanted facial hair. Lemon juice also has antibacterial properties and exfoliates the skin. Both of these ingredients will remove hair while nourishing your skin. Add them to your facial hair and see results in a few days! These are both natural and affordable home remedies that you can use every day.
To prepare gelatin as a facial hair removal mask, combine unflavored gelatin, milk, lemon juice, and lavender essential oil. Microwave the mixture for about 15 to 20 seconds. Apply it to your face and leave it on for at least 20 minutes. Once it has dried, peel off the gelatin layer. The facial hair will fall off. Repeat as necessary. Gelatin masks are a natural and effective way to remove unwanted facial hair.
6. Indian nettle
A paste made from crushed Indian nettle leaves and turmeric powder can be applied to the hairy face. This remedy is safer than most other facial hair removal methods and is very effective. To apply the paste, simply mix 3 grams of Indian nettle leaves with a teaspoon of turmeric powder. After mixing the two ingredients, apply the paste to the hairy area and leave it for at least half an hour or overnight. Repeat the application once a day for at least four to six weeks to see results.
The stinging nettle can cause hives or raised bumps on the skin. These bumps and hives are usually centimeters in diameter and can be itchy. Depending on how much you ingest the nettles, you may experience a rash on the entire face. Cool compresses can be used on the affected area to relieve the sting. Other remedies include aloe vera or a baking soda and water paste.
7. Lavender
The anti-androgen properties of lavender are known to inhibit facial hair growth, and the oil can be mixed with tea tree oil or milk and applied to the affected areas twice a day. This remedy should be continued for a few months for maximum results. Those with sensitive skin should avoid this method, as the essential oils can irritate. However, if you're dedicated to permanently eliminating facial hair, lavender home remedies may be worth a try.
Lavender oil is a potent source of antioxidants, which fight free radical damage caused by environmental stressors. It also reduces the signs of premature aging, such as wrinkles and fine lines. Furthermore, lavender oil helps reduce dark age spots and acne scars. Acne p. bacteria usually strike when pores are clogged. As lavender oil kills the bacteria, it has several other uses.
8. Tea tree oil
If you've heard about tea tree oil, you've probably wondered how it can help you get rid of unwanted facial hair. This essential oil has several uses in skincare and hair care. It is an excellent antifungal and antibacterial, and its soothing scent can be used to combat the appearance of unwanted facial hair. But, did you know that tea tree oil can also be used to treat acne? Read on to learn more about tea tree oil's other benefits.
Tea tree oil can cause allergic reactions if ingested, so it is important to avoid direct contact with the skin. Some people swear by ingesting this oil, but most medical professionals consider this practice dangerous. In addition, you should only use tea tree oil products that have been tested on the Human Repeat Insult Patch Test for skin sensitivity and irritation. You should always follow these precautions to avoid possible side effects.
Conclusion
So, if you are looking for a facial hair removal remedy that is inexpensive and easy to do at home, give one of these treatments a try. Remember to be patient though – it may take a few tries before you find the right method for you. And as always, if you have any questions or concerns, please talk to your doctor.